---
April 15, 2017
We did our morning routine and started early, about 7 or so. The day before had proved to be so difficult, and we had no idea what was in store for us. My Vans are really inappropriate hiking shoes, but my get were holding together pretty well, but I feared another 20 mile hike would start to give me blisters.
We left our river campsite and hiked about three miles away and I spot a plastic Pepsi bottle. Now, up to this point I have seen zero trash on the Arizona Trail so I was astonished to see it left there on the side of the trail with a tiny bit of Pepsi left in it. I wondered if it would fit the Sawyer water filter, and sure enough, it did! We got incredibly lucky; it means we have a backup bottle in case the filter bag broke.
We sort of crested the mountain top and actually got to ride a bit. It was a welcome change and our feet were happy that the unicycle seat would be mostly supporting our heavy weight. The terrain was up and down, but more or less ridable and we were starting to make some good time. In fact, we passed two through hikers; the couple we had seen in Pine that normally lived in Flagstaff. We even got to do some long flat ridable sections and really pick up the average pace. Our normal hike and ride was averaging about 3 MPH, and hiking alone was something like 2 or less. Good clean terrain would be 4-5 MPH and paved roads where 6-7 MPH depending on the terrain.
Then something amazing happened. I was riding ahead on the trail and saw an Arizona Trail sign at the trail head by a large paved road. Underneath someone had left a cooler and a note next to it. The note said, "Go AZT racers! Please take one and the cooler will be restocked regularly." I opened the cooler and it is full of ice cold Gatorade. Now, I'm not doing the Arizona Trail race, but I really hoped the guy who planted it there wouldn't mind a few unicyclists taking one. So I got to indulge in what was the best and coldest Gatorade that I had ever had in my life. My body really needed the electrolytes, and I could feel some energy returning as I downed the drink. Jamey and Rebekka rolled up and also took one. We were happy, and I give many thanks to this "trail angel."
The scenery had been changing ever since we got to Pine. The town's name probably stems from the fact that there are a lot of pine trees around — probably ponderosa pine. We hadn't been seeing any more cactuses, and there was more grassy vegetation around. The trees were a nice cover from the sun, and allowed us to ride and hike in a bit shadier of an area. Unfortunately, this made it difficult to keep our devices charged, as the solar panels off our backs were also hanging in the shade.
Finally, we were about two miles from our water destination and I pushed ahead solo. I caught up with two other hikers we had met in Pine — one by the name of Two Liter and another called Top Shelf. I stopped riding (it was rocky anyways) and chatted with them. They were hiking super light; frameless packs, no tent, and no pants, just shorts! We hiked together until the water stop where Jamey and I planned to camp; the hikers wanted to hike more and went a few miles further.
The water stop was a large pond, with fairly clean looking water. Another backpacker coming south from Flagstaff heading to Pine already had his tent pitched by the pond. He came over and introduced himself as Beaver. He was hiking solo and said he spends a lot of his year living out of a tent; something like 300 plus days a year! He was just doing a short portion of the AZT for fun.
Once Jamey and Rebekka showed up we all setup our tents and cooked some dinner. Beaver was a no stove type of guy, and let some Ramen soak in water for a while and then he spread it onto some tortillas with a bit of tuna. Jamey and I have been going the more expensive route by purchasing dehydrated dinners and simply adding hot water to them to make them rehydrate and warm up. I had never had one before I started planning for the trip, and I do like them quite a bit but they are pricey at $8-$10 a piece. Luckily the guy at REI gave me a bulk rate discount because I bought so many! Rebekka has been cooking a prepackaged pasta dinner and adding a thing of Ramen for extra substance. It is super cheap and she has been saving the most money on the trip. During the day we eat energy bars, granola bars, gummy snacks, trial mix, and jerky. I also brought a jar of peanut butter and a honey bear; I mix some honey into the peanut butter and it it straight out of the jar. A fresh hole jar weighs a full pound, but I think it is with the calories it contains. The jar lasts me about 5 days, and I had mailed myself a new one at each food resupply.
That night, much to our neighbor Beaver's dismay, the frogs came out and croaked to us while we fell asleep.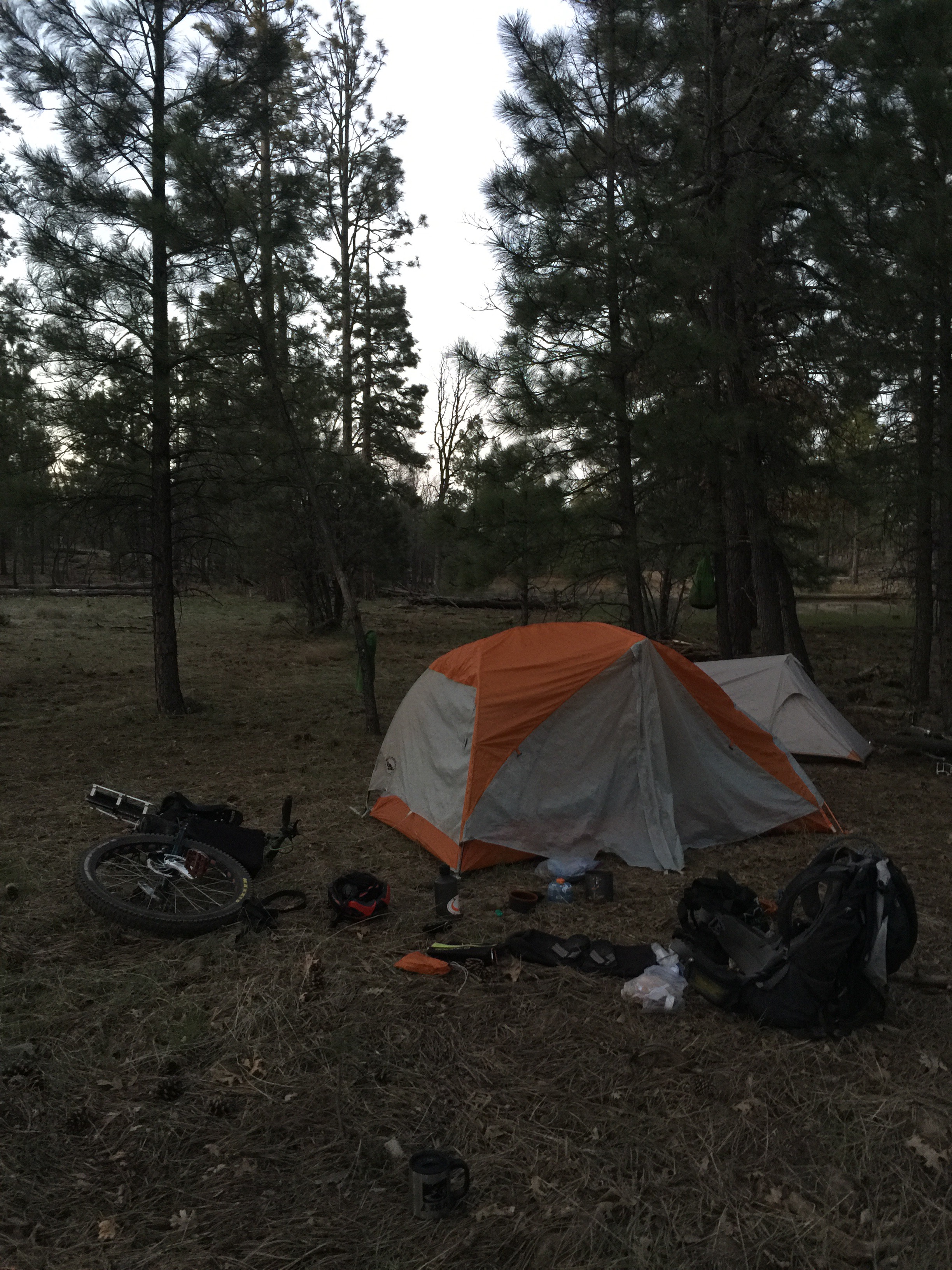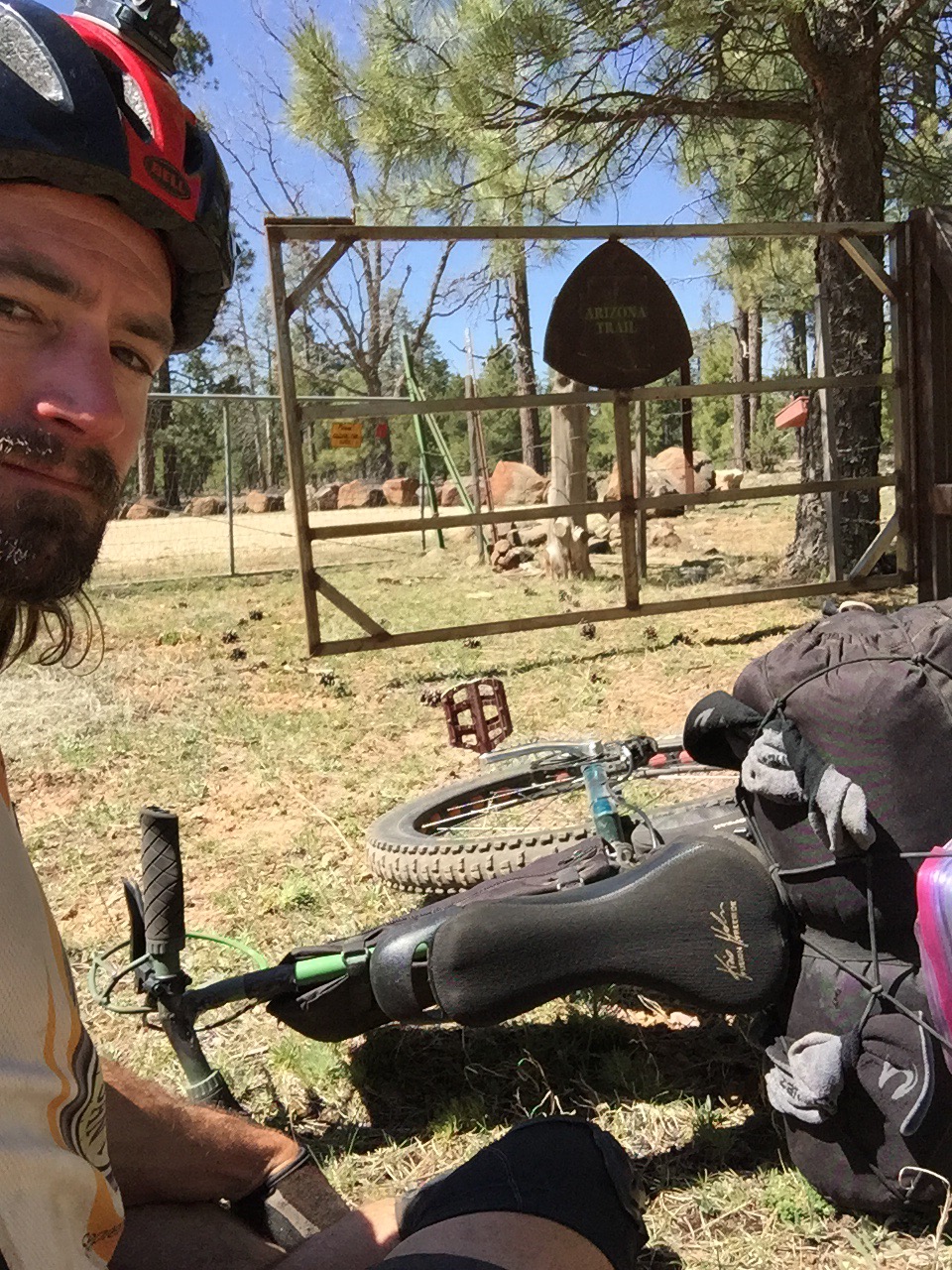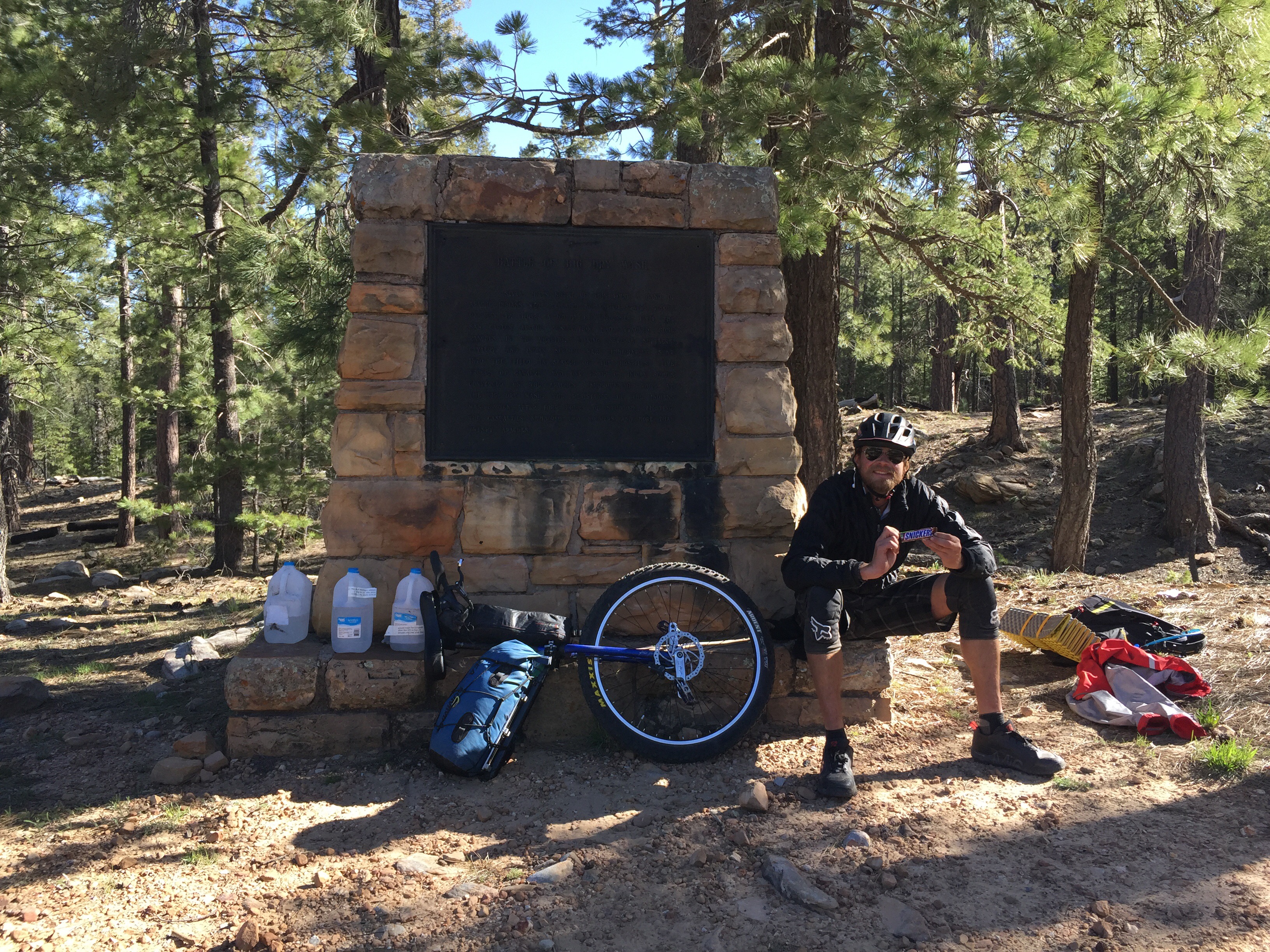 ---
---
April 14, 2017
A 20 mile hike would be hard for me. Throw in a heavy backpack and pushing a fully loaded unicycle and you have one tough day.
I woke up at my usual time of about 5:15AM. It was a little rough for me to sleep at night as the road was close by and there was a lot of noise from it. I guess it is hard for a country person to sleep with the sound of cars when they are used to the sound of nothing. Animal sounds should be okay, but the loud howling from a nearby group of coyotes didn't help. They have this incredible high pitched whine of a howl.
The night was back to being really cold again. I got out of my tent and it was covered in frost. I made my usual breakfast, two oatmeals and coffee, and started packing up my tent. After about 30 minutes I moved my camelback; the tube had frozen in the short time it was outside my tent! The condensation on my pot's lid also froze solid. Talk about a cold morning.
We got moving at 7AM but we saw several of the hikers starting at 6AM or earlier. Some of them were wearing just shorts and I was astonished; it was literally freezing out at that time. Nathan Hoover would be pleased.
The trail up was a long hike. It was almost completely unrideable, and we had to flip the unicycles backwards and push them up and over a ton of rocky terrain. It was the most difficult 20 mile hike that I have ever done. Towards the end my feet were feeling like lead weights, and it required so much effort to lift a foot and take a step.
Finally we reached a trail head that intersected with a nice river. We managed to find some soft and relatively flat spots just above the running water. We used the river to refill our drinking water supply, and Jamey busted a hole in one of the last two dirty water bags we use for filtering. My water filter was already dead and in the trash, and being down to one filter bag made me nervous. We leaned that most hikers ditch the bags and use a Smart water bottle instead. Apparently almost any water bottle can fit on the head of the Sawyer filter, and about 1/3 mile back we had passed a few people camping with some cars. I didn't want to take a chance of having the last bag break so I mustered up the courage to walk back and see if any of the people had an old water bottle we could have. They guys were friendly, and had a few full bottles of some water. He let me try it out on the Sawyer filter; no luck, the threads didn't match. I thanked the guy, and he was saying we could keep the water, but i told him it was really just the empty bottle we needed in order to filter water with. There would be no point to carry a few empty water bottles for the next four days. We had a backup plan; both Jamey and I had chemical tablets to get safe water. So my 20 mile hike ended with an extra ? a mile that didn't pan out with the needed bottle. We planned to buy one at the next town we would hit in four days.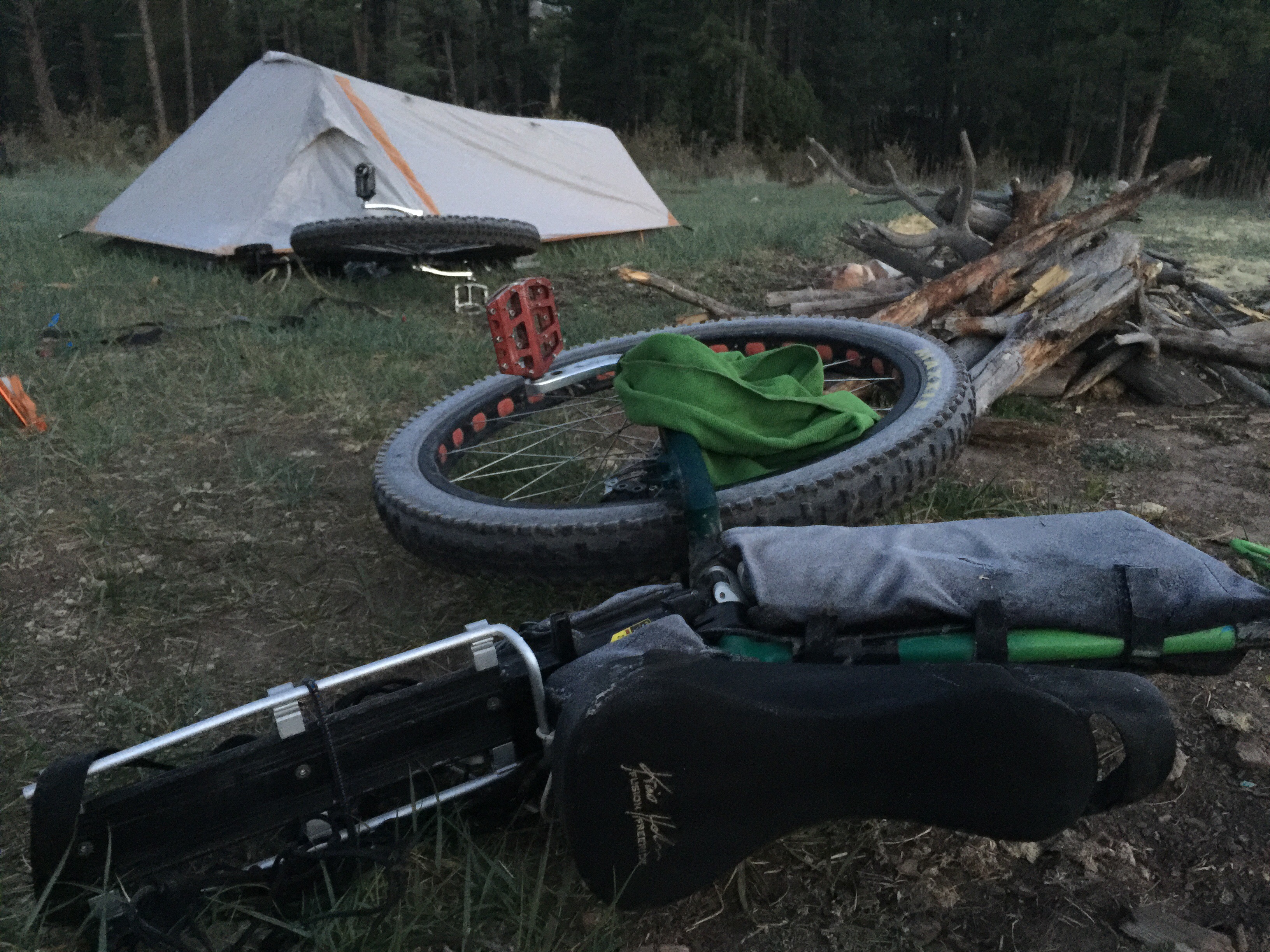 ---
---
April 13, 2017

Camping at the RV park in Payson was nice, but we had to get to our next destination, Pine, by 4PM before the post office closed in order to pick up resupply packages. We were going to have to do some more wilderness bypasses again and wouldn't be back on the trail until Pine. So, we got up extra early and rolled away from camp by 6:30.
It was also the start of my last year in my 30's. Next year will be a new decade for me, so I should make the most out of this current one, and riding the Arizona Trail is definitely a great way to spend my birthday.
Our first mini destination was a quick stop at Starbucks inside a grocery store. I got a nice double espresso and some lemon pound cake. I had already eaten my normal oatmeal breakfast, but I was still hungry and grabbed a delicious breakfast burrito from the store.
We quickly left down on a dirt road. At this point we could see other bike tracks in the ground from people who are bike packing the AZT and racing each other. The race happens every year, and we knew at some point the bike guys would start passing us, as they can do the whole trail in less than a week!
The dirt fireroad had some beautiful red rocks in a small canyon, and flanked by some trees. We were starting to get into different scenery; less traditional cactus desert and more high country tree lined desert. We'd pass through some streams running across the road and the riding was nice and fast for the first ten miles or so. It was great to be off the highway and away from all the cars.
The dirt road also offered some fun close encounters with nature. I hopped off the uni at one point and started pushing up a hill. Jamey started making a commotion about a black snake rattling on the side. I went back and checked it out. Yup, a big fat dark rattlesnake was slowly meandering away in the brush. My first rattlesnake that I saw on the trail; Jamey and Rebekka's second. Apparently it had started rattling at Jamey at the exact spot I had hopped off my unicycle!
We had to go on some pavement for a short bit and start a downhill into a deep canyon. That wasn't a good sign, as it meant we would have to climb back out the other side, and we could see some pretty steep and rocky terrain. The downhill was a dirt road the led to a bunch of small cabins and after we crossed a dry creek we discovered that this bypass was pretty tough. It was overgrown, rocky, hot out, and uphill. We had a time limit, so I kept on pushing through so we could arrive before the post office closed.
Once we finally climbed out of the bushy canyon we hit the proper Arizona Trail and got to ride a bit before finally hitting Pine. Jamey had realized his package got sent to That Brewery, a local brew pub that would hold packages for hikers. I had my package and some brake pads from Amazon at the post office, so I branched off from them and rushed over.
I hit the post office at 3:45 – 15 minutes before closing. They had my brake pads, but not my resupply package! I was a bit worried, but I called the brewery and discovered they had picked it up. If you are doing the trail just get your packages sent to That Brewery in Pine, Arizona.
At the brewery I got my resupply package and we hung out a bit and relaxed. The Strawberry Blond beer was my favorite! The mac and cheese wasn't so great, but it came with a fresh salad and my body had been craving fresh green food. It was a great birthday dinner, and the gang got me a slice of cake with some ice cream for dessert.
The place was hopping with hikers. We met Two Liter and Top Shelf, a bearded man named John, a couple from Flagstaff, and one other guy. This also was the point that I realized people took upon pseudonyms for the hike. I don't really understand the purpose, and I also never was too into the alternative name that people give themselves at Burning Man. Jamey, however, goes by the Unicycling Unicorn — but this is to promote himself as a performer, which makes sense to me.
So after dinner and two beers we rolled half a mile away to the trailhead. This was the first time we got to see a large heard of elk crossing in front of us in the setting sun. We setup camp right there, and went to bed early, as it was starting to get cold.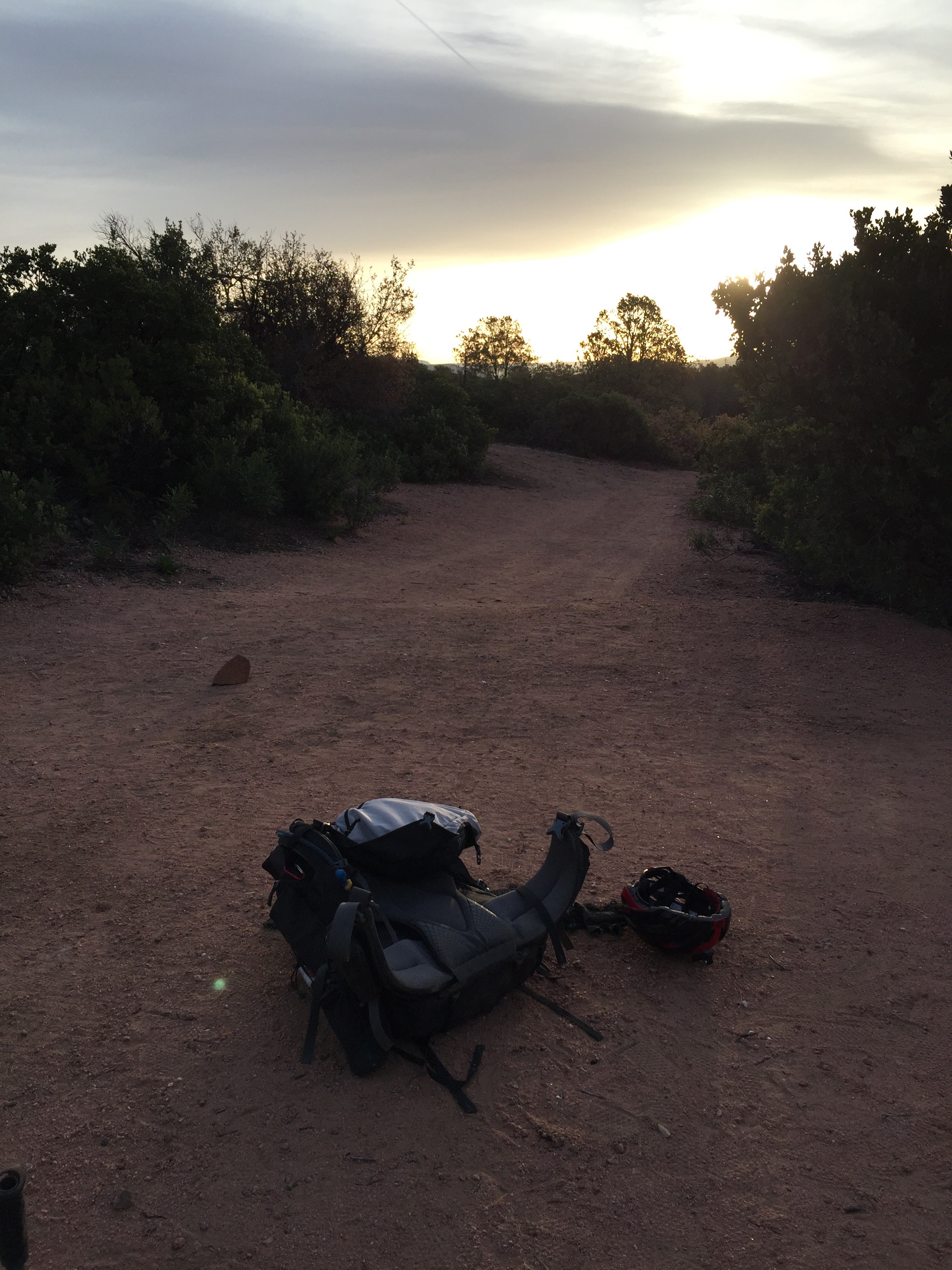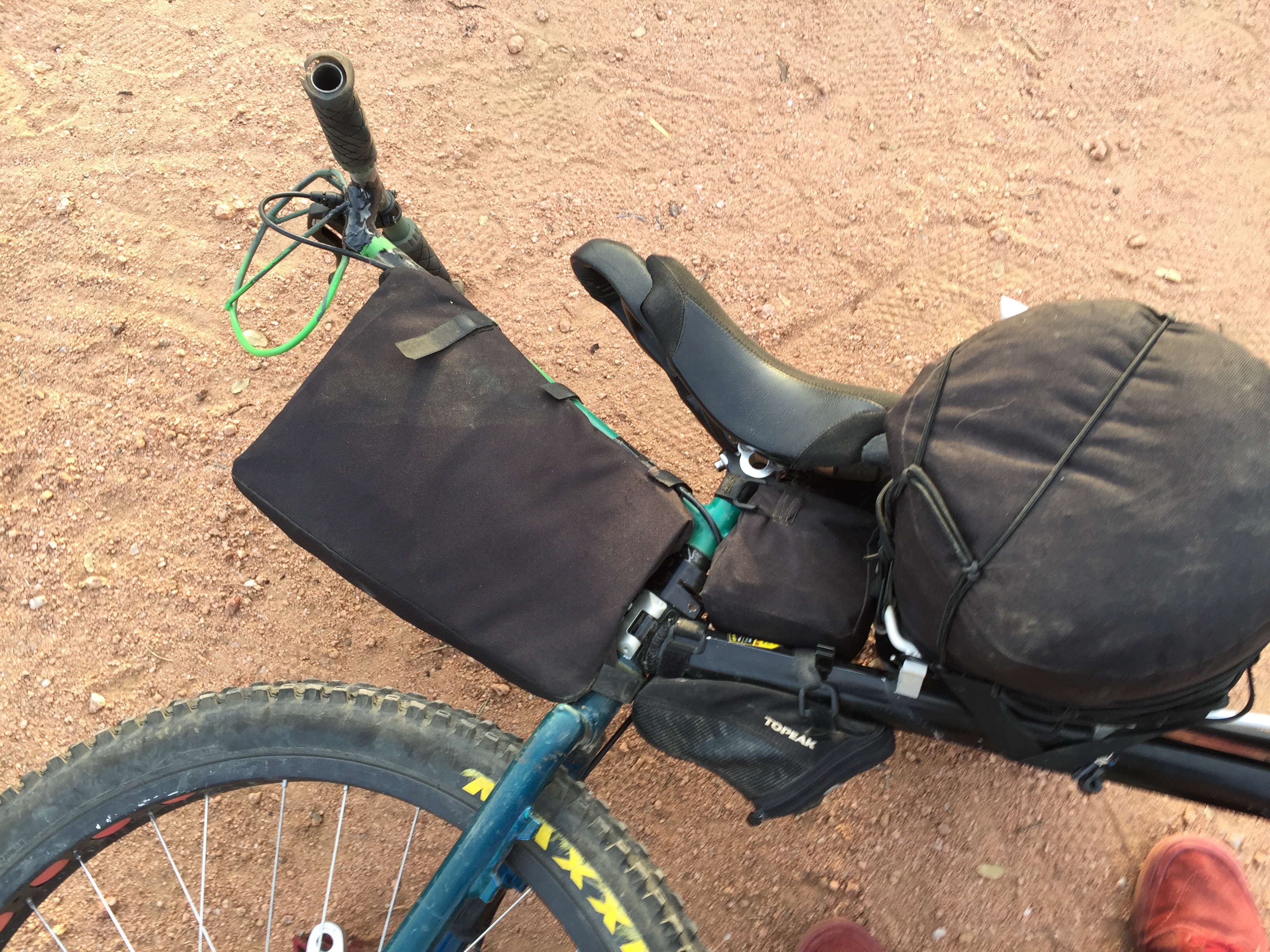 ---
---
April 12, 2017
It was supposed to be an easy 10 miles or so from where we camped on the side of the dirt road to the next town of Payson that we had planned on staying at. We weren't 100% sure of the route, but we continued up the dirt road and kept an eye out for our turn.
Eventually we saw a service road number 47 and turned down it. Later we discovered that we should have kept going on the main dirt road further to a different number 47 road! This road seemed to head in the right direction, and it started out as a semi-ridable trail. Then we hit a fork in the road and google wasn't helping us out in the wilderness. We took the lower route and followed it till another fork at the end of the "road". I use that term loosely as there is no way a car could get down it. The trail continued down, but it wasn't the direction we really wanted to go. If we took it, we would hit the main highway and have 20 miles on the hot road to Payson. The alternative was to back track and go another road that was unmarked; we also couldn't find it on any of our maps. We decided to go down the sure fire way instead of taking an unknown which might lead us far astray.
The trail. It quickly became overgrown brush that we were pushing the unicycles through. It was downhill and in the shade but we had to walk behind the unis to push aside the weeds. Even so, my legs and arms got a bit scratched up from all the brush. After 5 or so slow miles we hit a larger fireroad and started making some better time.
Jamey had stashed more water at this road, so we topped off and each of us was carrying three or four empty gallons at this point. We felt like homeless trash men going down the road with plastic bottles clanking from the side of our packs.
I was taking it pretty easy on the terrain and trying hard to not fall. Another fall or two could cause my handlebar to snap off, which would be a lot harder to repair and require full welding. With a small crack I could get some JB weld and patch it up myself, but tossing on a full bead would be much better. Or best yet was to do both things: metal weld and JB weld.
I was debating hitch hiking to Payson to take care of my unicycle. I disliked having to take a car and not being able to ride it all, but it seemed like the best idea. However it was around 11:30 and the shops are usually closed around lunch so I decided to swap into my smaller 127mm cranks and ride as fast as I could to Payson. Jamey and Rebekka could take it easier on the road and I would have been able to meet up with them later in the day.
So I blasted off spinning my legs on the pavement making good time. The sun was hot with no overcast. I saw a bunch of old cars and bikes on the side of the road and a large shed full of stuff. An old bearded guy named Ron was out near the front so I started to yell at him and ask if he had a welder. I explained my situation and he said he did have an old wire feed welder that I could use. Excellent! He pulled it out and found some sandpaper for me to scrape the paint off with.
The welder was a pretty old school 120V that was missing the amp and wire feed knobs. Oh well, I figured it was better than nothing. I put on his old welding helmet (no gloves) and started trying to make it stick. It is tricky without a modern auto-darkening welding helmet but I finally got a big chunk of metal over the cracked area. I don't know how good of a weld it was but it was better than a crack.
While I was welding Rebekka and Jamey rolled up. They must have seen me on the side, and came on over to check everything out. Ron had a ton of junk in the large oversized barn. Tons of old motorcycles, in various states of disrepair, old car parts, old bikes and even an old unicycle. He pumped up the tire on this relic from the 60's for us to give it a try, and sure enough: it still worked.
I gave Ron $20 for letting me use his welder and we were off in the hottest part of the day. Ron also warned us: Payson, our next destination for the evening, was all uphill.
And Ron was right. We had to slog through a long uphill. All of it was ridable road, but it was a 4 lane highway and not all that pleasant in the baking hot sun. But arriving in Payson had it's rewards: a Dairy Queen! I had pointed it out to Rebekka and Jamey who were riding behind me, but it didn't mean anything to a German girl. Jamey got it, and we stopped for some of the most delicious ice cream ever. The heat makes you really appreciate it so much more.
The plan was for me to go to Wallmart to buy some JB weld to add strength to my cracked (but hackily re-welded) handle, while the others got us a campsite at an RV/Camp park up the road. I had never been in Walmart; I just tried to avoid the chain after hearing such bad stories on how they cause lots of job loss and pay workers poorly. But, out on the trail necessity won over morals, and I went in to get JB Weld. I also meant to get my own Sawyer water filter, but I forgot and left promptly after getting the JB and headed to the campground to do some more makeshift repairs.
The nice thing about an RV park was that it had free showers and a laundry room. We were getting pretty stinky so it was nice to freshen up a bit and then head over to the restaurant a few blocks away to grab a beer. We had opted to save a few bucks and eat the dinners we had lugged with us on our backs instead of splurging on a real meal. But we usually can't carry beer… and while drinking we overlooked maps and figured out where we should have gone on that day.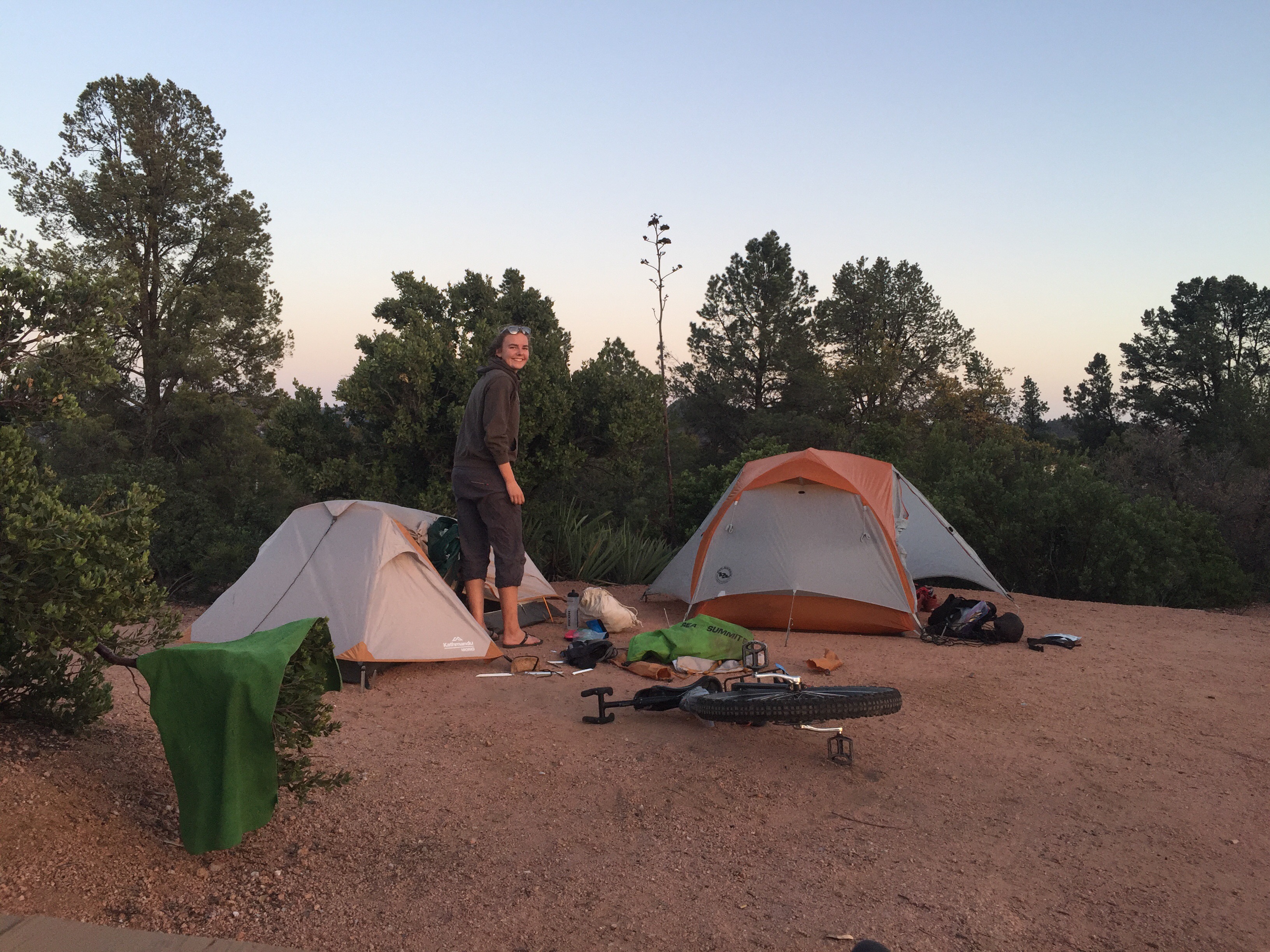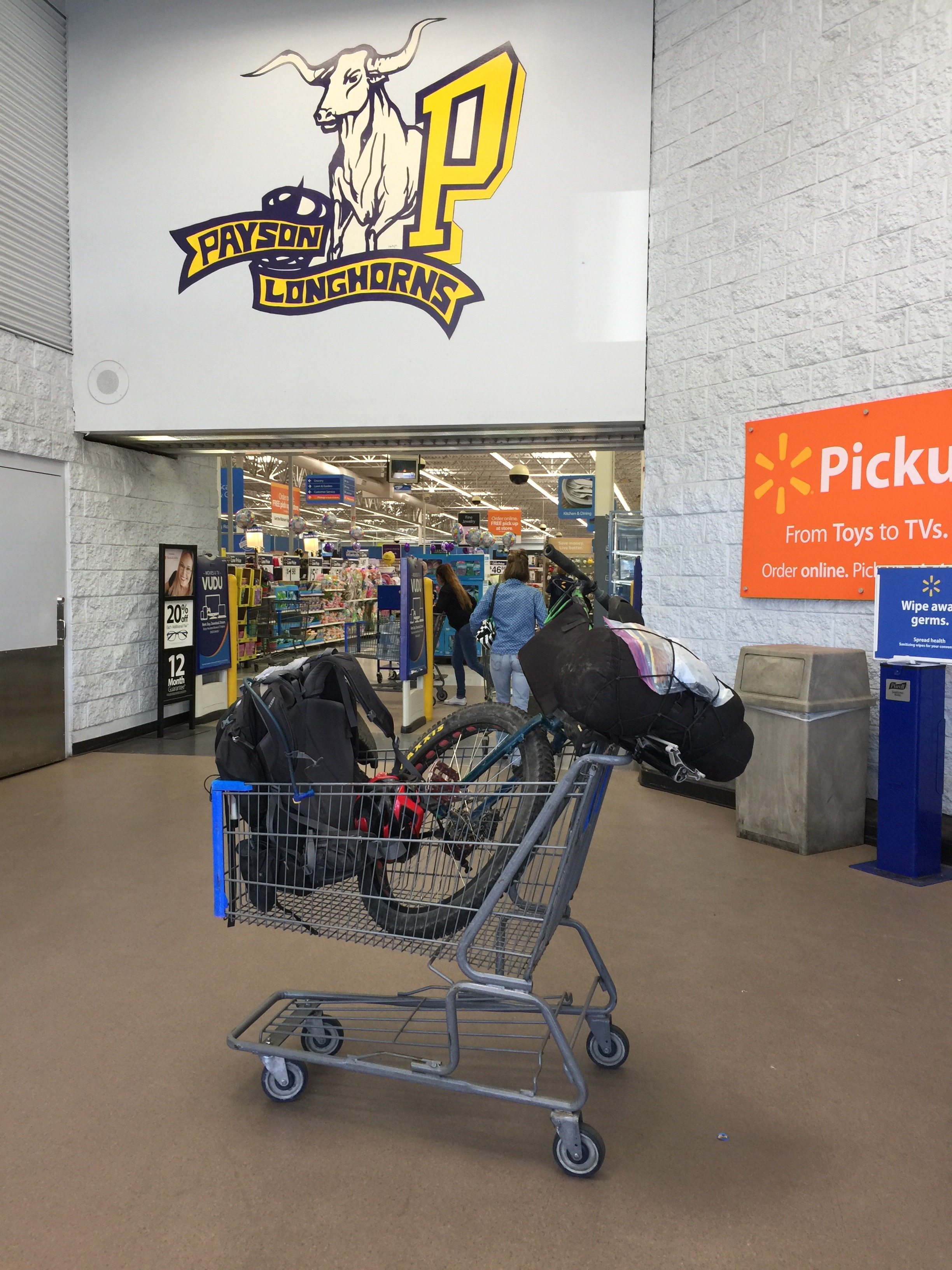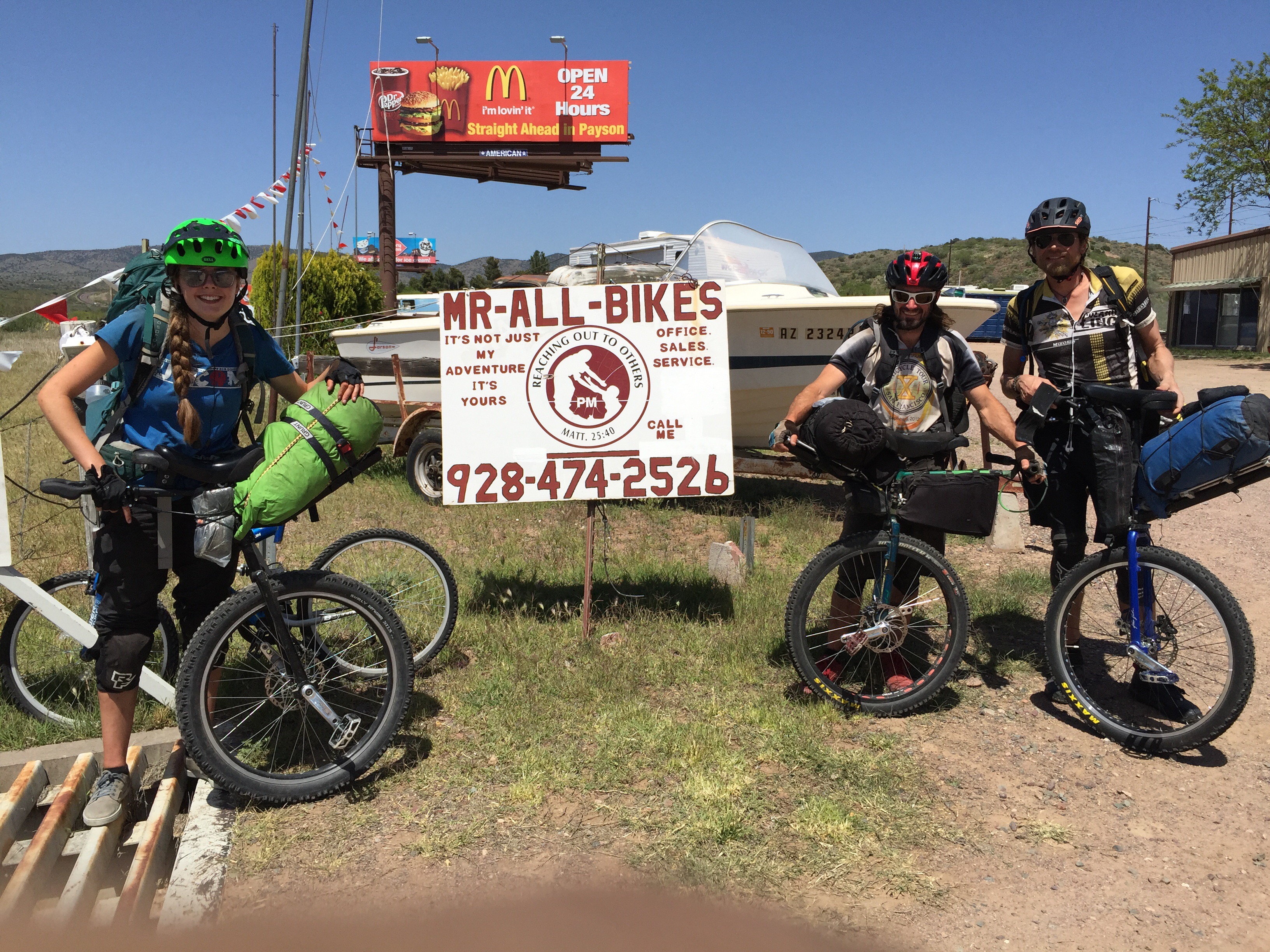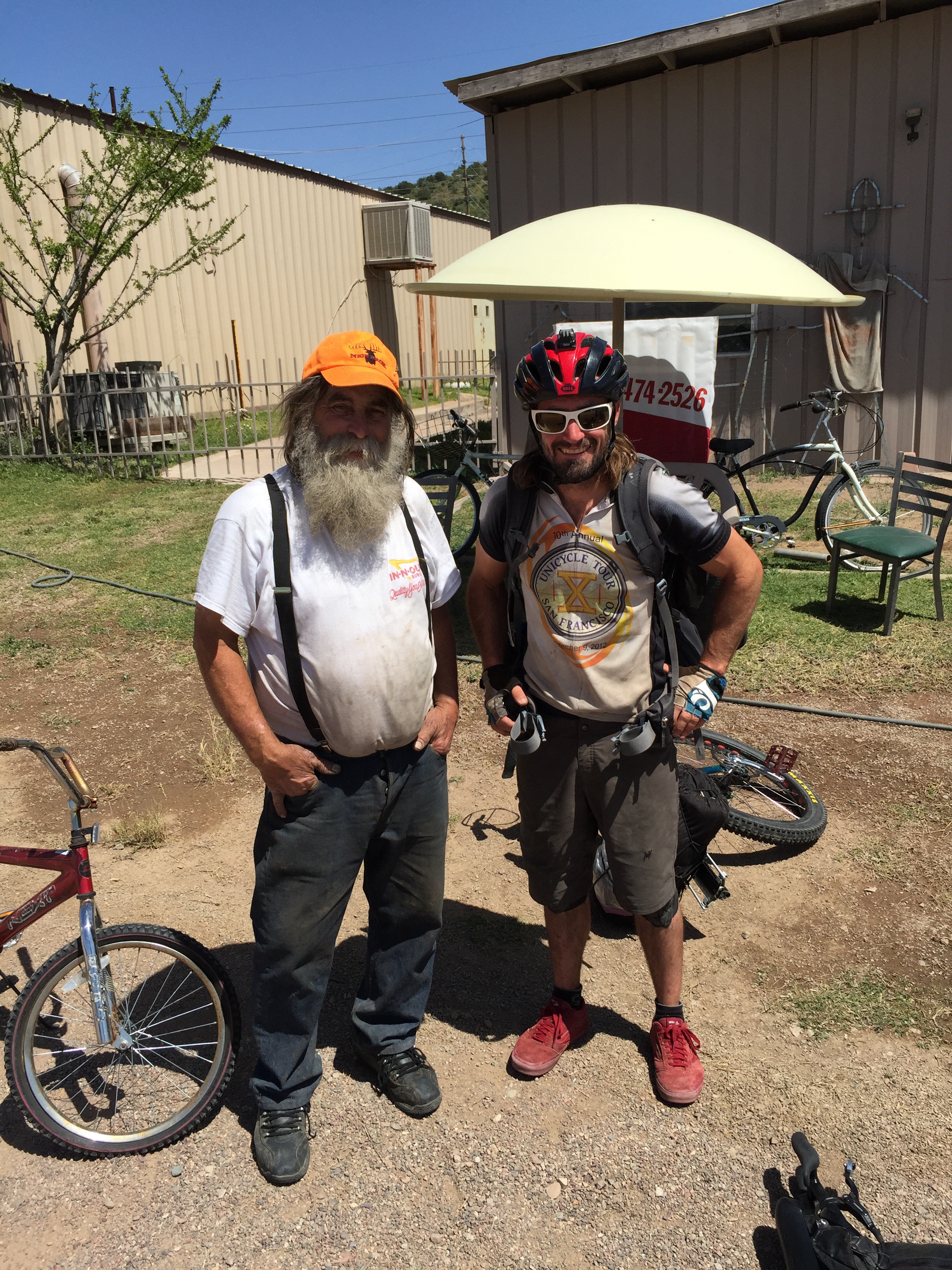 ---
---
April 11, 2017
A 15 mile hike pushing a unicycle is hard work. Add on 5 miles of riding and it makes for one long day. The views and scenery should make up for it, but that didn't happen on this day.
I woke up at about 4:45AM hearing Rebekka's alarm. She usually hits snooze 2 or 3 times, but once I'm up I'm up. So I got out of bed and started cleaning up my tent at about 5AM. It was freezing the night before and my tent was full of frost, particularly the area under my outer rain shell. Your body head moisture rises at night and freezes on the top. I had washed some socks the night before and tossed them outside to finish drying. Within 30 minutes they were frozen.
Smiles had camped with us the previous night and started cleaning up her camp by at about 5:30. I was drinking my coffee and eating my oatmeal. She was packed up and hiking within 30 minutes. She said she doesn't do a hot breakfast and just has some bars on the way. We never saw her the rest of the day, despite following the same trail for at least 16 miles. She is a fast hiker and we are slow at pushing our unicycles.
I decided to start earlier than Jamey and Rebekka since I got an earlier start. I was worried that my handlebar would crack if I were to fall again, so I wanted to ride slower and more conservatively. At least, that was the initial plan.
The start was a fireroad downhill. It was pretty ridable but had some loose spots that I'd hop off and walk through. The road lasted a few miles and then the trail continued on a single track path to the left. It immediately was impossible to ride and became a push.
My normal pushing technique is to flip the unicycle backwards and push from the handle. It sort of feels like a wheelbarrow and I can balance it just right to make it fairly easy to push. But I was still worried about snapping my handle off, so I instead pushed it forwards with my hand on the rear rack. This is much more difficult to do and takes more energy.
The trail was mostly downhill, but it just wasn't ridable. A few spots I'd ride for a few feet and then have to hop off because of a bunch of loose rocks or some other obstacle. The scenery was also just average. We had moved to a high desert and the foliage was less cactus and more vegetation. This also added to the aggravation of pushing as it was thick in some places and scraped up my legs and arms.
I did manage to ride a bit of one section but crashed hard; my upper left buttock when straight into a rock and left a bad bruise. My left shin also hit hard and was left with a lump.
My goal was to ride to the main river and wait for Jamey and Rebekka. I relaxed and washed up a bit and soaked in the sun. One nice thing about the day was the weather: mainly overcast that kept it a bit cooler with touches of sun shining through. The others rolled up about 45 minutes later and we all filled up with 3 liters of water before continuing with the push. One highlight is that they saw a rattlesnake! Our first on the trip. I saw a bunny that day, which wasn't nearly as exciting.
The trail went under highway 87 and we just kept pushing with short bits of riding. Eventually we got to some large power lines and veered off the trail onto a fireroad to avoid the no-wheel wilderness area coming up. After a mile of fireroad we had a treat: a regular paved road. Finally some easy riding. We road for about 2 miles paved and 2 miles off gravel dirt road before hitting the campsite at 5:15.
Jamey had stashed water at the side of the road. Rebekka went and grabbed the 3 gallons but discovered one gallon had a hole and was almost empty. We were bummed as it would make the next day harder, but Jamey went and took another look and found a forth gallon that he had left marked "free water" in a slightly different spot. Ah, perfect, we had enough water and it was definitely warmer than the night before.

---
---
April 10, 2017
Yesterday was effectively a rest day. A drink beer and rest day waiting for the Visitor Center to open.
We packed up a little late because the Visitor Center didn't open until 8am, but we got there about 15 minutes before to plug some gadgets in to the outlet on the outside of the building and let them juice up. I ran in and got my food package as soon as they opened and organized a few things. We all had too much food, so we rode down to the marina to drop off the excess in their camper box and grab a few snacks. Jamey got a coffee and I snatched up a breakfast burrito. It was frozen, and not all that great, but I ate it up.
We were still doing a wilderness bypass and had to hop onto Highway 188 and go west to the end of Lake Rosevelt. The road was gently rolling and some pretty easy terrain and it made me wish I had my geared hub or a 36er to speed down the road.
At some point I started to get worried my brake pads were going to run out. I had been avoiding using the brake the previous day and started to use my legs a bit to slow down. This was starting to make riding more difficult and tiring, and I decided to order some new pads from Amazon and have them shipped to Pine AZ, our next food drop. Luckily we still had some reception, and after quite a few tries of inputting the USPS address into Amazon I finally got an order off. Hopefully they will arrive within 4 days before we arrive!
Eventually we hit the dirt fireroad and started our long climb up a mountain. The terrain was pretty steep, and we had to mainly push the unicycles with a touch of riding every now and again. The sun was not as hot as the previous few days and the time went by pretty quickly. Eventually we got to a one gallon of water that Jamey dropped off a few weeks earlier and we used the opportunity to fill up our camelbacks to about 2 liters each. Jamey also stashed 4 more gallons about 5 miles further up the hill, but put on bonus gallon here in case we needed it. We probably would have been fine without it, but it was nice to not have to lug extra water for such a long distance.
The road wasn't all that bad because quite a bit was shaded as the sun started to edge lower on the horizon. We loaded up with water at the second stash (I did 4 liters) and we were prepared to hike/ride about another 7 or so miles to a small creek crossing.
The fireroad eventually turned into the official Arizona Trail and right at that point we saw our friend Smiles. We kept meeting up with her at various drops and ending spots, so it was super coincidental to see her as she hiked the normal trail (leaving the day before) while we did a 22ish mile bypass to make it to that same spot.
The next part of the trail was some up and down fireroad. I did a stupid crash and cracked my handlebar. I have some ideas on how to fix it, but they will have to wait until we hit the town of Payson in two days. I hope I can avoid crashing anymore, as it can't take much more before it will snap right off!
Eventually we hit the little creek that crossed the road and found a nice little campsite. Smiles walked up and joined us not too long after we arrived and were just starting to make dinner.
The night was cold again; two sweater weather, and long underwear.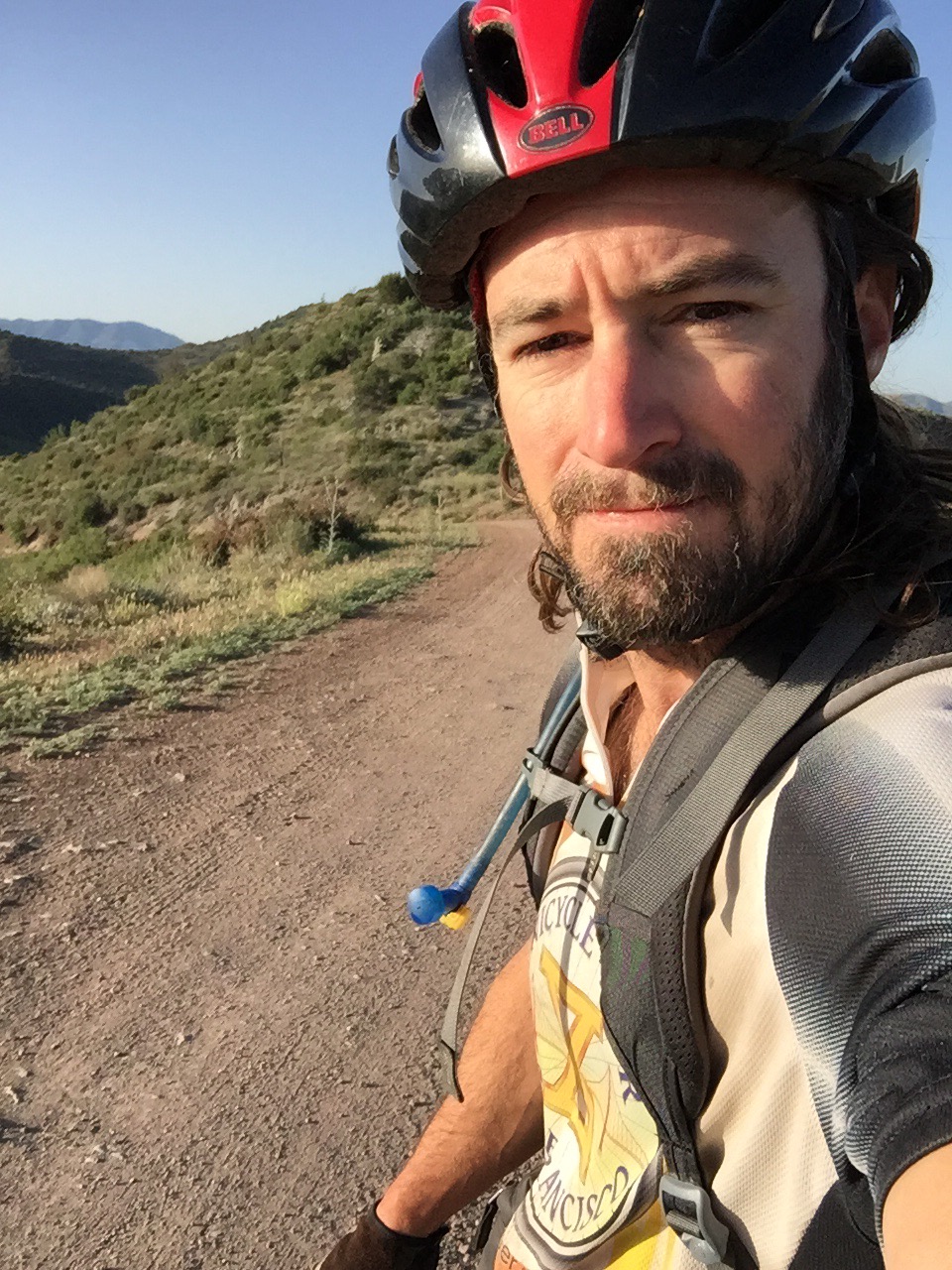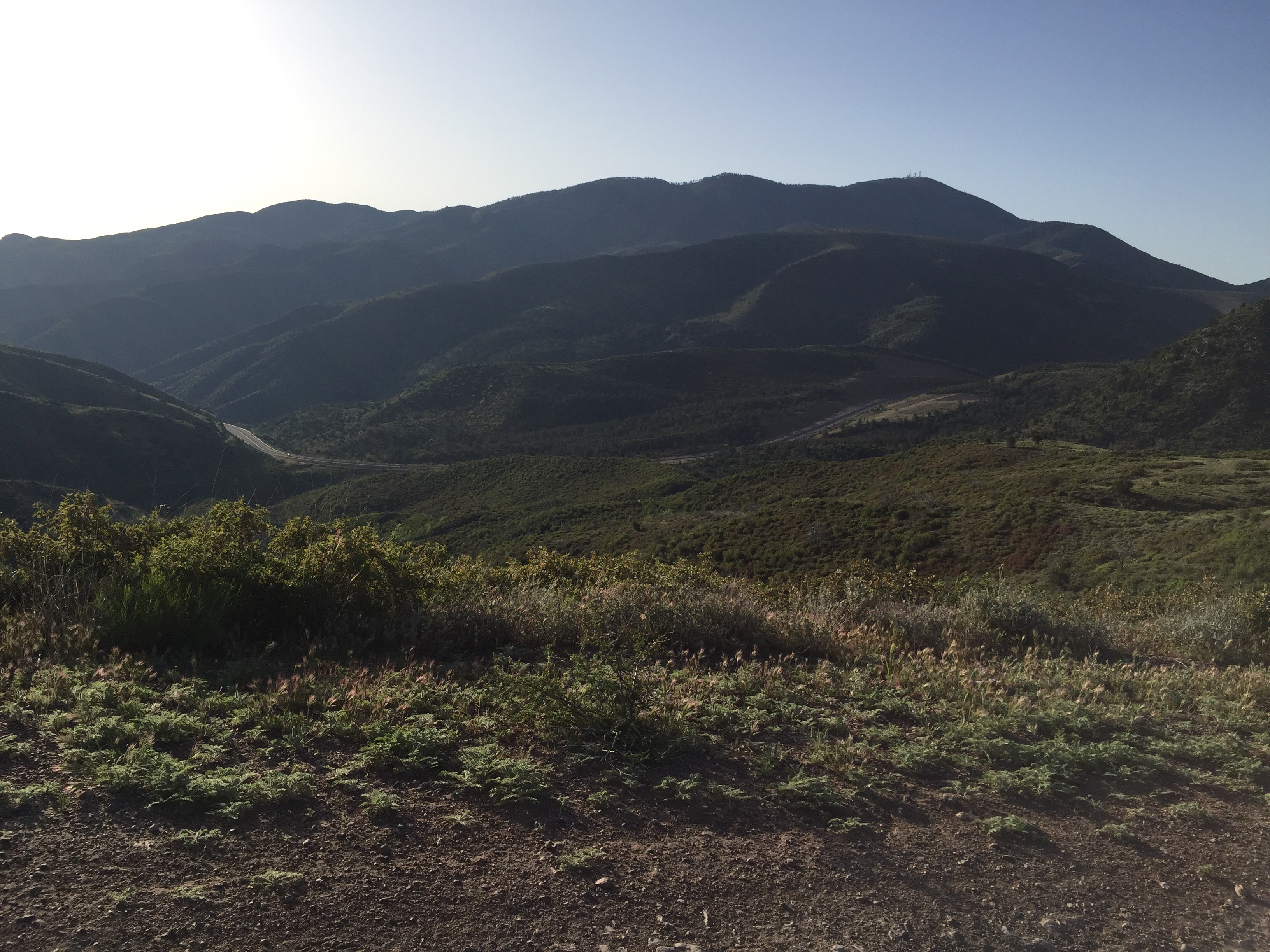 ---
---
April 9, 2017
We got up and rode (I mean, walked…) the mile from the lake back to the dirt road and started continuing along the bypass. All the loud people from the night before were snoozing, and we were polite and quiet.
The road basically followed small rivers with some gentle up and down terrain. We rode most of of it, and eventually hit a huge damn indicating we were at Lake Rosevelt.
The lake has a visitor center that we had shipped our food resupply packages to. Jamey had called to see if his arrived, but they only had mine. He told them to hold it for a few days till we arrived, and he had a backup food plan from the previous shopping experience that we did a few days prior. According to the website, the visitor center should be open on Sunday.
But, the visitor Center website was wrong. We arrived after a short 14 mile dirt road road (well, the last few might have been paved), and I was disappointed that it was closed. We would have to wait till the morning when it opened at 10AM so I could get my resupply. I was a bit devistated as we could have gotten to continue riding and be ahead of schedule.
We rode to the Rosevelt Lake and setup camp pretty close to the water. Jamey almost. Locked in a huge 5th wheel RV by camping right in front of it. And wouldn't you know it, the guy pulls up with his truck to tow it away right after he got his tent all set up!
The guy was super cool. He also was towing a boat and just got done fishing. Well, technically fishing, but he has a bow and arrow to shoot the fish. The arrow is on some fishing line attached to the bow and he can then reel on in the fish. Apparently the lake is full of an invasive carp species. They come out close to the surface and can easily be picked off. So, he does some awesome bow fishing mainly to just reduce the invasive species.
But, I said the guy was cool, and he quickly goes in his RV and pulls out two beers and a soda for us. Some Corona Light that tasted great in the hot sun. We helped him attach his 5th wheel trailer to the truck and chatted a bit.
Jamey had read that the nearby marina sold snacks and beer, so we decided to walk over there. It was still early in the afternoon, and we had one beer in us but could easily down another. So we mosey on over and we happen to see "Smiles", a through hiker we had met a few days prior at the hotel. She had picked up her resupply package from the Marina! And it turned out that they also had Jamey and Rebekka's package. Excellent! Apparently the visitor center no longer likes to accept packages, but they took mine because I had explicitly listed "Visitor Center" on the address and we called them and told them to hold it. Jamey didn't put their name on the address (just his) and the marina has the *same* address, and they like to take hiker packages as it means more business for them.
So, Jamey got his package and we hung out at the marina and drink some beer they had on tap. Not a bad rest day! I leaned over the edge and tried to grab some carp; I almost had one, i swear!
After we left the marina Jamey got a 6 pack of some cheap beer for the campsite. I had half of one more but was pretty tired. The nice thing was that we had a bunch of extra food at this point, and Rebekka called it "Christmas" for dinner.
---
---
April 8, 2017
We woke up and got an early start and were rolling by about 7AM. We chatted again with our neighbors and gave them some demo riding while Jamey bummed some coffee from them. Erick from Phoenix arrived at our camp spot to join us for the day on his 26 muni.
So the four of us made a turn off our dirt road and onto a paved road and rolled away. The road was rather boring up and down. I had my short cranks still on the unicycle and I would fly down the downhills. Erick was an amazingly fast rider and zoomed along with us at a decent pace.
The sun wasn't too hot out, and a semi overcast was keeping us cool. The area was striking beautiful, with gorgeous red canyons surrounding Canyon Lake and a lot of people passing us with boats in tow.
Eventually the pavement was supposed to end, so I zipped ahead on my short cranks to the final town of Tortilla Flat (I think) to have some time to change the cranks. I flipped my pedals into the longer 150mm holes in preparation for the climbing and rough road that was probably ahead. The town was an awesome little surprise. It had maybe 3 buildings fashioned like an old time cowboy town. There was a saloon full of dollar bills pasted everywhere the eye could see. Outside was a hang man advertising the general store. They sold ice cream, so I took the opportunity to get a cone and a soda. A little extra sugar never hurts out in the desert! The others arrived and did the same, and after a brief rest we were off Adam.
Jamey had again stashed some water on the side of the road, so we all topped off again about a mile past the town, but we were rolling in the liquid at this point and ended up dumping a gallon or so out so that we could carry the empty plastic bottles with us. He wasn't sure how accessible water would be and it is always better to be over prepared than under.
Not too long after the water stash the paved road turned to dirt. It was a bit tougher going due to a washboard like effect from sand and dirt collecting. Still, we could ride most all of it, and the washboard didn't slow down people towing boats as they were still dragging them down the dirt road to make it to lakes even deeper into the desert.
The canyon views never let up. We passed by some more majestic rocks right above Pristine clear rivers. People were pulling over on the side to snap pictures of the area and I was just soaking it in, enjoying some downhill dirt road action. The road was pretty nice and easy to ride without too many bumps.
All the downhill got me worried about my brake pads. Jamey said he had been going through them really quickly while uni-packing due to the extra weight. I had looked at my pads and they were starting to get low. I was hoping to make it to Flagstaff to get new pads, and decided to just spin my legs faster and brake a little less, or just use my leg power to slow down. I mean, no brakes, no problem, right?
While on the dirt road we passed Jamey's second water stash. We ended up pouring a lot out, but the safety net of having good water was nice to know.
After about 32 miles of riding we were hitting the time to find a campsite. It looked like there was some lake access a bit off the road, so we stopped to evaluate the situation. Should we ride another mile down another dirt road off our main path to go camp by the lake? Would it be nice to hop in the water? Jamey and Erick were excited about getting wet, so we went for it.
The area down by the lake was chocked full of Saturday lake visitors. We easily found a campsite and hopped in the water to get refreshed and a bit cleaner. It was still relatively early in the afternoon, so Jamey asked a few nearby campers if he could buy a few beers. They obliged by giving him two cans of Coors Light, which we shared while playing bocci ball. Yup! Jamey brought a travel edition of bocci ball, so we busted out a game of fun. Jamey took the win for the day, as he is an old hat at the game.
Once dusk started approaching Erick headed back up the road to hitch a ride back to his car. He later told us that he almost didn't get a ride and was going to head back to our camp and crash with us, but at the last minute someone picked him up and gave him a ride.
Dusk also brought out the load camp music. Some of the local lake visitors were blasting some thumping base from their cars as we were trying to go to sleep. So much for peace and quiet in the wilderness!
---
---
April 7, 2017
We left the "hotel" a bit early so we could get to the Superior post office right as they opened. The owner was so kind to let us use her area and shower, so we gave her $40 and a nice note.
We also added in some time to go by a coffee shop/store that google said would be open 30 minutes before the USPS. Unfortunately google was wrong and it wasn't open.
We waited for the post office to open and got our packages that we had premailed a few weeks prior. Then some sorting off stuff out while still in front of the coffee shop waiting and organizing. The shopkeeper got there early to setup and she was the sweetest lady ever. She said she would get us something to drink as soon as she could. And sure enough, she had us some coffee before too long and the store wasn't due to open until 30 or so more minutes. We also splurged and got some cinnamon rolls. This type of eating is probably why I'll be heavier after this trip.
We had to ride back on the busy road for about 4 or 5 miles to the trailhead and kept going down the road. The trail continued into wilderness area and we had to do a bypass, so the plan was to do an established side route on a dirt road. We hit the dirt road and continued at a pretty good pace as it was relatively flat and smooth.
Then trouble. A road closed sign and large gate saying no trespassing, private property. The gate looked pretty new and we weren't sure what to do. To ride back on the dirt road and take the main highway would be a huge setback in time and energy.
We decided to hop the fence and immediately start moving down the road. The road looked so well used that this had to be the way people have been going for a long time. Luckily the pass was short — like 100 yards or so, and I saw a gate on the other end of the road and gave Jamey the thumbs up thinking we had cleared the area.
But it wasn't an all clear. We had just passed a single house and not 30 seconds after we see a truck behind us. Two women were in the truck; one rolled down the window to talk to us while the other filmed. She told us that we were on private property and it was illegal to be trespassing there on her land. We apologized profusely and they opened the gate on the other end so we could get out and be on our way.
Everything seemed fine. We rolled on the dirt road and hit a water drop that Jamey had stashed in some bushes. While we were relaxing and refilling up on water a Sheriff drives by and pulls over. The cop comes out and talks to us, asking where we came from. We told her, as it would be hard to lie when we were the only unicyclists around for miles and miles. She said it was illegal to hop a fence and go into private property that has no trespassing signs. We could be taken to jail and fined. She said the owner had called to file a complaint and have them catch us, but wasn't sure if they would press charges or not. She hinted at probably not, and we are hoping so. The cop took all our identification and filed a report, and we left for some more dirt road action.
The dirt road was a bypass for the main busy highway, but we had to take the highway again. I swapped to my 127mm crank holes and pushed my seat up a bit higher so I could roll a bit easier. Jamey and Rebekka have 137 cranks, while I was using 150s. The longer the crank the more leverage you get on each pedal stroke but the larger arc your leg makes, which is slightly more uncomfortable — particularly when spinning fast on paved roads. Normally the 150s work great with a geared 26 unicycle when in high gear, but…. my geared hub is broken.
The road was a 4 lane highway with huge semis and a bunch of cars. It had a wide shoulder that was perfect everywhere except one crazy bridge crossing that forced us to ride a tiny bit on the road. That part was a little hairy, but everything else was uneventful.
The next exciting part was seeing a large gas station off the side of the road. We pulled in to get some ice cream. I woofed down an ice cream cookie sandwich and ice cream snickers bar. They were delicious in the hot sun. Jamey and Rebekka got some cold things from the attached MacDonalds. I, in principle, avoid the fast food chain and it has been at least 20 years since I've been in one. I noticed that the station specialized in craft beer, so I snatched a can of SanTan IPA to go with our evening dinner.
We hit back on the main road and road a short distance to a big grocery store. Jamey wasn't sure if his next food package arrived, so they bought some extra food to prepare for it possibly be missing. We hit the road again and in a few miles we finally turned off onto yet another dirt road. The highway was just a bit to crazy to be riding on and we were glad to be off of it.
At about 5:30 we started scoping out camp sites and saw a trailer off the road and figured it might work to sleep in the terrain on some empty property with a for sale sign in front. A woman who was camping in the trailer with her friend was walking her dog and said it seemed like a good inconspicuous spot to camp. She invited us over to her place for some oranges after dinner.
We setup, ate dinner, drank the one beer I brought, and then headed over to talk to the ladies. They had three awesome dogs to play with as we chatted. One tiny guy, a medium sized one and a golden. They were traveling around from Portland checking out AZ and camping in various spots with their trailer RV. One lived in Santa Cruz for a while and was even in the '89 Loma Prieta earthquake. I remember that day distinctively as I was playing GameBoy on the couch when it hit. They were super awesome people to chat with and we left with a few oranges for breakfast.
---
---
April 6, 2017
As you may recall, we camped in a wash about two miles up from the river. A solid ten mile hike straight up hill awaited us and I it was nice to cut off a few miles in the morning as the previous days hike was pretty grueling in the hot sun.
Our plan was to get up at about 5am to get an early start at about 6:30. I was out of oatmeal and had some Ramen style noodles for breakfast instead. The salt tasted great and it was nice and filling.
The plan went dead on the money and Rebekka and I headed out at 6:30. Jamey had camped down the trail a half mile back to get the more amazing views, and he was going to just catch up to us at some point. I drew a little unicycle in the sand with a small arrow to let Jamey know that we headed off. The views on the hike up were amazing. Red and golden cliff edges kissed by the morning sun.
We had a large hill to hike but it wasn't too bad in the cooler morning. Eventuallly Jamey caught up and we continued up the hill.
Our plan was to hike about 7 miles to the top of the mountain and get more water. It took way longer than we expected and it was tricky to locate the dirt water hole used for livestock. We did manage to ride a bit of the downhill but it was touch and go. Becky found the water spot and it was quite a bit brown looking, but we filtered it out. Unfortunately it proved too much for my water pump, and all the cleaning I did wasn't working to make it better. So, I ended up using Jamey's squeeze filter to get a little water and tossed my pump in the trash the next day.
We left the water and did some more riding down. The trail was supposed to be an easy green/blue trail for mountain bikers, but it proved to be slow and tough for us. I started to get quite a bit tired and was lagging behind the others and walking more and more bits that I normally would have ridden.
We finally hit the trail head and parking lot. The goal was to make it to the town of Superior to get our resupply packages, but the post office closed around 5 and it was probably around 4pm at that point. We pushed/road a track over to the highway and decided we would take the road into town instead of a harder trail. Jamey was set on trying to hitch hike the 4 or 5 miles to town so we started to hang out on this huge two lane road trying to hitch a ride. I doubted that all three of us would be able to get a ride, and after about 10 or 15 minutes I decided to just ride into town. Rebekka came with me but Jamey stayed behind.
We got about a mile or so from the town of Superior and see Jamey sticking his head out from a car yelling at us that he'll be at the hotel. As we kept riding I would stick my thumb out. Finally a truck pulled over with two nice ladies and a smaller girl. We tossed our unicycles in their truck and hopped in the back of the cab and were off! The woman said she could take us wherever we needed to go, so I had her drive us to the post office in the off chance it was still open. It wasn't, so she kindly took us to the hotel Jamey was going to.
We saw Jamey outside and he said, "Do you want the good news or the bad news?" The bad news: no hotel rooms, which wasn't too big a deal to me as I hadn't been on the trail as long as the others. It was also the only hotel in Superior. The good news: the owner said we could camp in her yard and use their personal shower. Awesome! People can be so kind and it gives me faith in humanity to see people like that.
So, I flipped an old rug upside down to protect my tent from rocks. It turns out the rug was out there because it reeked of dog, but my tent's footprint kept the stink out. We all took showers: I took a really quick one just to not overstay our welcome.
We then headed off and got some Mexican food for dinner at a nearby restaurant. It was delicious compared to what I had been regularly eating. The one bad thing: they didn't serve beer! So Jamey and I walked a little further down and grabbed a few drinks before going back to the tents and snoozing.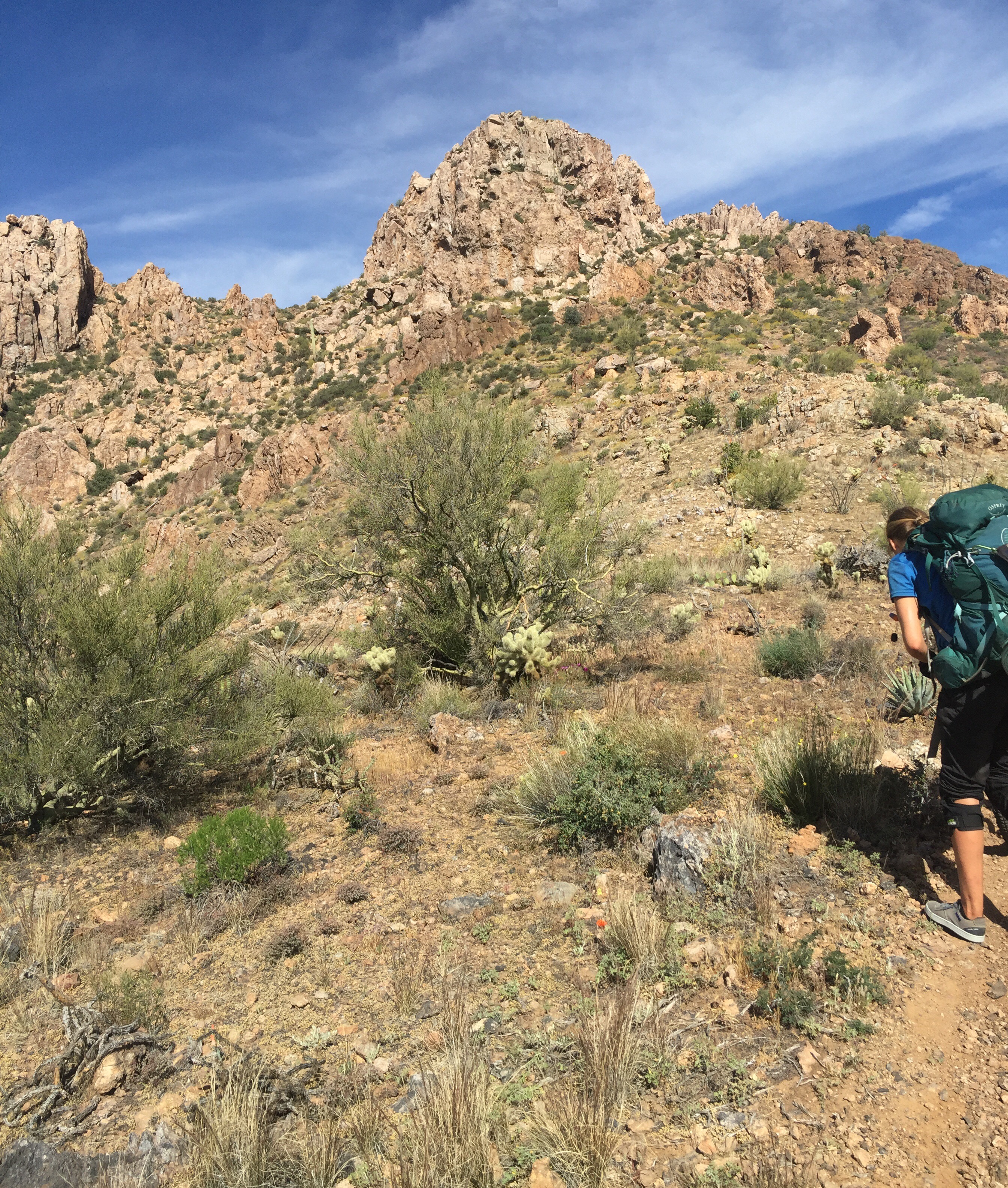 ---